Dr. med. Barbara Jahns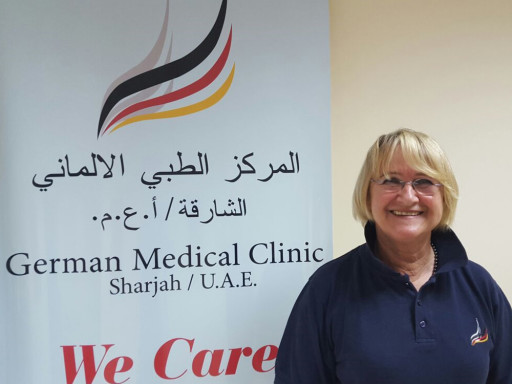 Professional Experiences: 
1986-2000 Assistant (House) Doctor Inducement Gynaecology Unit, Paracelsus Clinic, Henstedt-Ulzburg
Specialist Chieft Doctor Inducement Gynaecology/Obstetric Unit, January 1, 2000 Paracelsus Clinic, Henstedt-Ulzburg & ongoing Specializing in Gynaecological, Oncology and Senology
Since January 2008 up to present, Gynaecology/Obstetric Doctor of the German Medical Centre, Sharjah U.A.E.
Special Interests:
Premarital counseling, Family counseling, Contraceptive counseling, Gynaecological counseling and Breast cancer counseling.
Pregnancy check up with ultrasound, cardiotocography and blood examinations
Gynaecological examination with cytology and ultrasound
Breast examination with ultrasound
Vaccination against cervix-cancer
Language Spoken:
Detailed Profile:
1972, Curschmannstrasse Girls Abitur (high school Grammar School, Hamburg diploma) Specialism: Science
1978, Undergraduate Study of Biology 1st State Examination Teaching and Sports Science (equiv. to B.Sc. Hons.) Diploma Freie Univ. Berlin
1984, Postgraduate Study of Human Approbation Medicine, FU Berlin (equiv. to M. Sc)
1982-1983 Doctoral thesis on the significance Steglitz clinic of late – potentials in the average ECG Berlin of post-cardiac arrest patients.
1991, Specialist Paramedic Certificate Qualification Medical Council of Schleswig-Holstein
Paracelsus Clinic Specialist 1997 Gynaecology Henstedt-Ulzburg & Obstetrics
2002, Professional Development course Certificate – Organized by the German Cancer Logical Society (Deutsche Krebsgesellschaft) oncology in oncological diagnosis and therapy .