Dr. med. Christian Heidenreich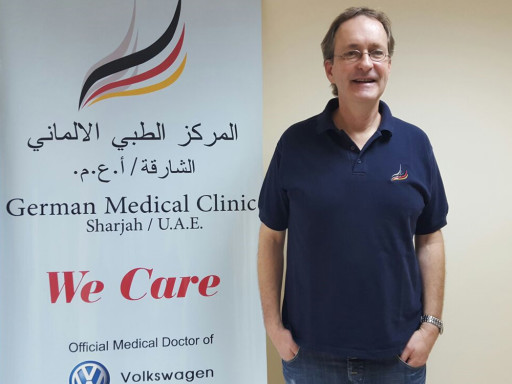 Managing Director
Facharzt für Innere Medizin Vertrauensarzt des Deutschen Generalkonsulat Dubai Vertragsarzt der Lufthansa Ag in Dubai und Sharjah
Detailed Profile:
Dear All,
It is always a bit funny, if somebody needs to introduce himself.
Ok, let me try: I m 55 years old, since 27 years married with Sabine and we have 2 lovely kids, aged 19 and 21.
I am actually now since thirty years a doctor and founded the German Medical Clinic in October 2004.
We have up to now almost 9.000 patients enrolled and are providing all Internal Medicine investigations, like Ultrasound, Endoscopy, Stress ECG, Blood Count Machine and so on. All medical equipment is up to date.
If you wish to come to me, you need to know that I am a bit different than other doctors.
Firstly I take all the time, whenever you need my consultation.
The first appointment is always scheduled for 45 min and all other following appointments for 30 min.
For that reason I have enough time to ask you many questions to get an idea, what might be wrong with you.
This so called Anamnesis (Medical History) is guiding us to your problem and for that reason we can fix it much more easier.
To have time and to listen to the patient, along with my experience, it is most likely the reason, why well known German companies choose me as their official contracting doctor, which I am accompanying since years.
Many thanks for your time and kind regards
Professional Experience:
1980 – 1986  Study of the human medicine at the University of Hamburg, Germany.

Medical Assistant time in Brakel, Munich, Hamburg and Bremen.

Since 1995 Specialist for Internal Medicine.

1997 – First own practice in Beverungen.

1997 – 2004 Specialist practice in Brakel/Westphalia.

Since October 2004 – Consultant Internal Medicine Specialist and founder of the German Medical Centre, Sharjah U.A.E.

Routinely visiting of various advanced training, e.g. advanced training in Echocardiography (inclusive certified colored Doppler).

Official study practice of the institute for research and development (IFE Europe).
Special Interests:
As a Internal Medicine Specialist, I am concern particularly with illnesses of the gastro-intestinal tract and heart. In addition, I offer various other possibilities of treatment and investigation.
Video Gastroscopy and Coloscopy

Echocardiography

Ultrasound of the abdomen, thyroid and prostate

Colored Doppler Sonography

Stress ECG and Holter ECG

Lung function test

Vaccination consultancy and vaccination for child and adult
Language Spoken: